The Assassin's Creed series needs little introduction. Produced and published by Ubisoft, it's one of the most iconic franchises in the gaming industry. We've picked a few of our favorite AC games and written a few words to explain why we love these titles so much.
Assassin's Creed 4 Black Flag
Who doesn't love pirates? AC4: Black Flag is considered one of the best AC games, with a unique plot and charismatic characters. However, some say that the game was more of a pirate adventure than a true Assassin's Creed game; nevertheless, the setting, vivid locations, and naval battle system are fantastic. Edward Kenway quickly became a fan favorite, with a completely different personality compared to previous assassins.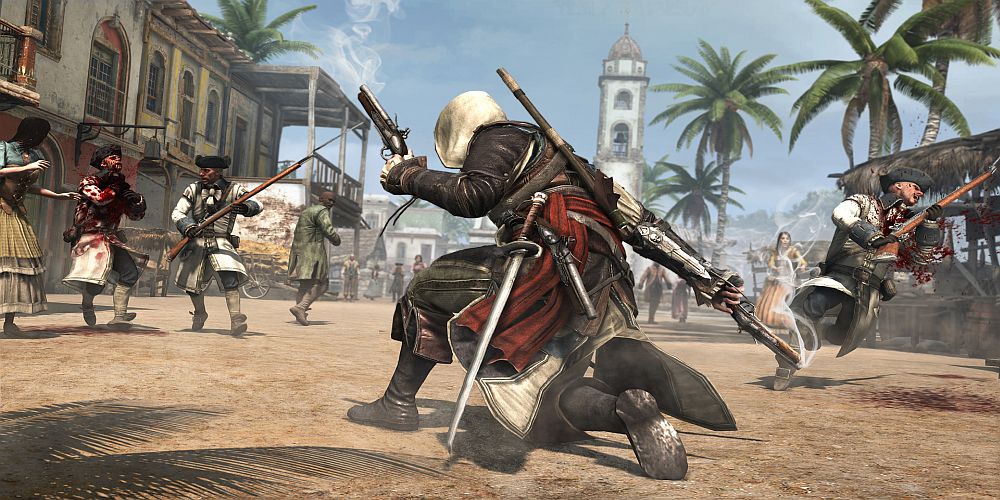 Despite being released in 2013, the game has aged well and still offers hours of entertainment. We've particularly enjoyed swimming through the Caribbean Sea and exploring beautiful locations. Yarr!
Assassin's Creed 3
AC3 took Assassins into the frontier. Based on the American Revolutionary War, the game, unfortunately, didn't win the hearts of fans straight away. However, what AC3 did right was definitely an excellent naval system and a unique storyline. Despite the game having a few flaws, including the pacing of the story, Assassin's Creed 3 began a new era in the history of the franchise.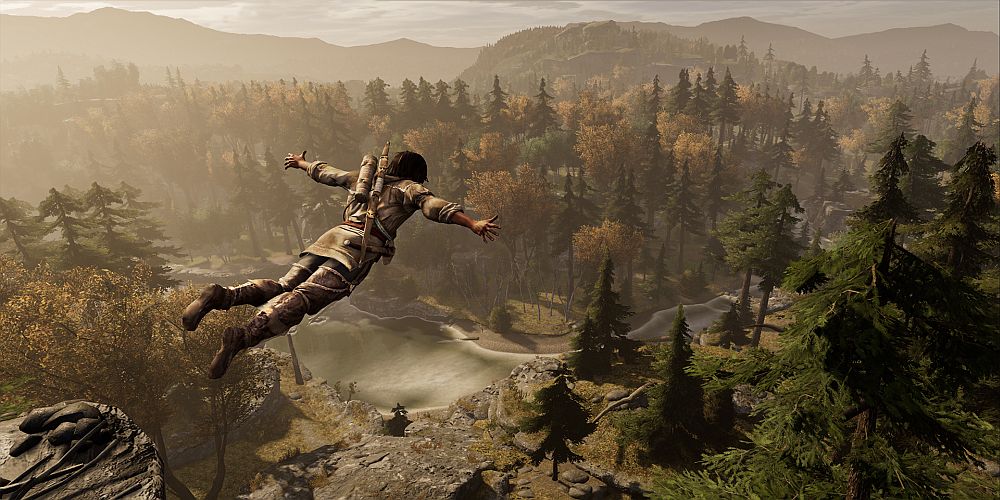 It's still a fantastic game to play, with definitely one of the most original stories. Thanks to plenty of fun mechanics, the game is still playable even after finishing the main storyline. It's a shame that the main protagonist didn't win the players' hearts. Perhaps being the next assassin after Ezio Auditore was a tough task, and Connor's personality didn't shine next to his Italian counterpart.
  If you want to re-experience Connor's adventures, take a look at Assassin's Creed 3 Remastered. This version comes with upgraded graphics, gameplay adjustments, and all DLCs.
Assassin's Creed Syndicate
Taking place in Victorian times, Assassin's Creed Syndicate somewhat continues AC Unity's legacy. It might look or feel similar, but the game delivers beautiful locations and the inimitable atmosphere of 19th-century London. With an equally interesting plot, AC Syndicate still gives off some old-school AC vibes we miss from the latest installments. Jacob Frye is a likable character, and so is his sister Evie Frye. She also takes a crucial part in the narrative: it's a shame we couldn't pick her as the main protagonist.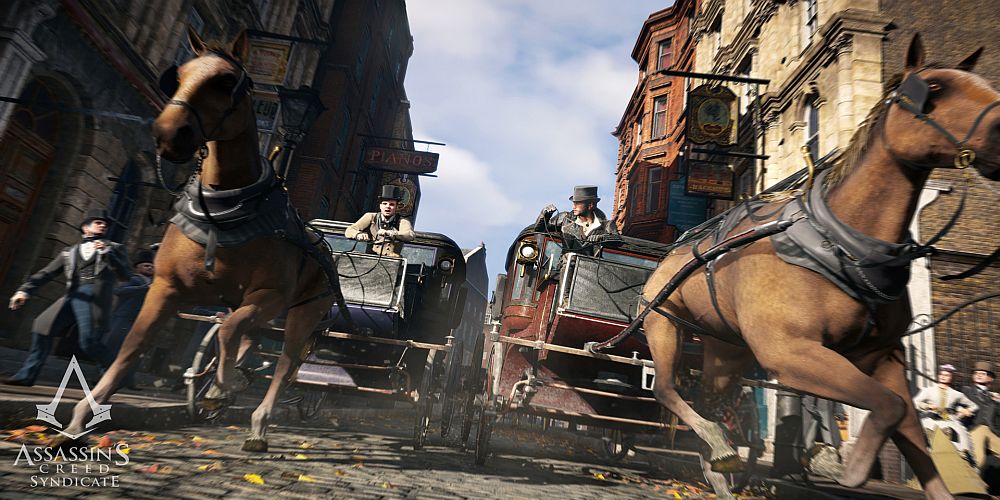 Assassin's Creed Unity
The release of AC Unity was perhaps one of the most problematic ones. Riddled with bugs from day one, it left many players disappointed. However, after numerous fixes, the developers managed to truly uncover the beauty of AC.
Unity takes us to France during the French Revolution time. It's an action-packed installment that shows the brutality of this period in French history. Filled with many interesting characters, Unity definitely deserves praise for the narrative choices. The main protagonist, Arno, was liked by the audience as well, thanks to his personality and… emotional storyline. This title got its DLC called Assassin's Creed Unity Dead Kings as well.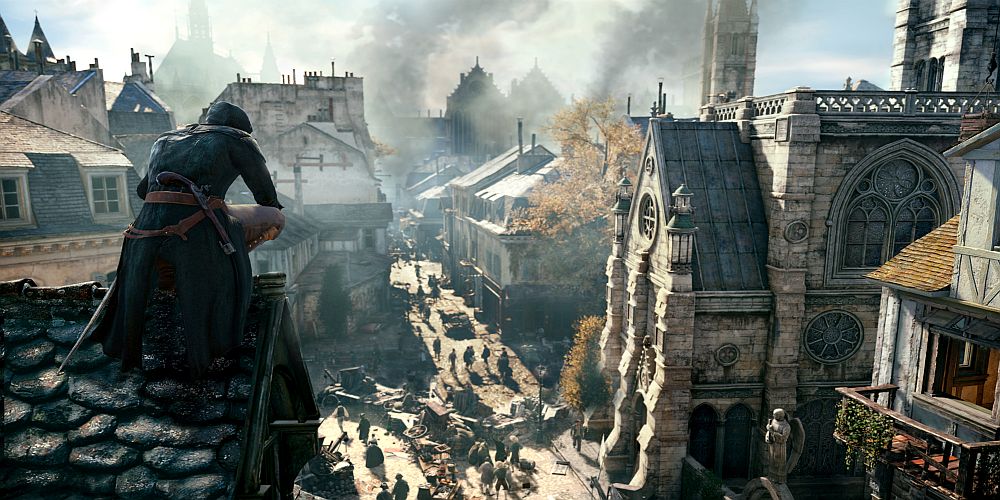 Despite the initial problems, Unity did introduce many fun mechanics. Moreover, it put an emphasis on parkour and stealth skills, features that feel truly AC. Some believe that AC Unity and the next installment were the last two old-school Assassins Creed games.
AC Odyssey
A game set in Ancient Greece seemed like a natural choice for the AC franchise. Featuring two playable protagonists, Alexios and Kassandra, the game is famous for its… size. Some people consider this an advantage, while others believe that the Odyssey was overpacked with quests and additional challenges. Nevertheless, AC Odyssey boasts amazing visuals. Ancient Greece, recreated by Ubisoft's art team, is a mesmerizing world that you'll want to revisit again and again.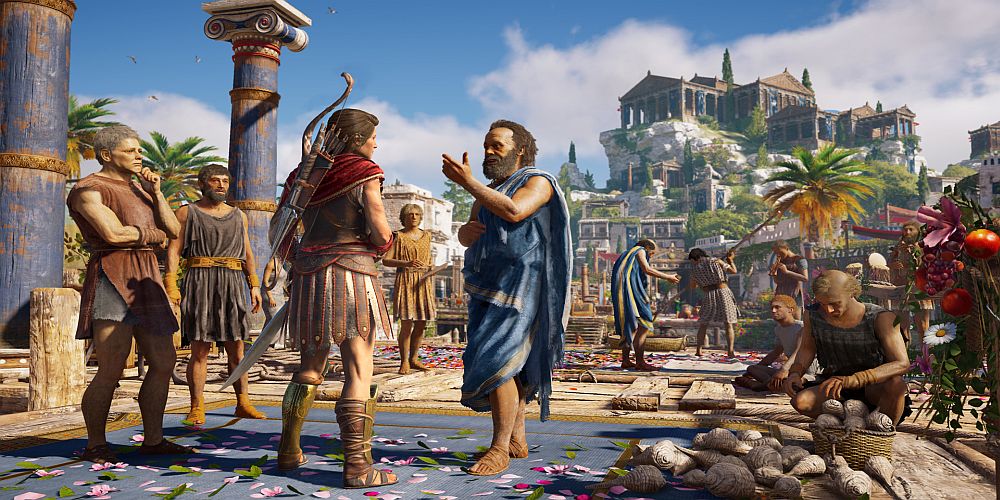 The possibility of picking a protagonist was an interesting choice as well. Whilst technically the choice doesn't matter, in reality, the entire plot suits Kassandra better. It was later revealed that, in the official lore, it was Kassandra who was the canon choice. Later on, she appears in the AC Valhalla DLC, proving this claim.
Assassin's Creed Valhalla
Fans have begged for a Viking-themed game for a long time. When Assassin's Creed Valhalla was announced, naturally, the fans were delighted. Once more, we can pick the gender of our protagonist, but this time they bear the same name and show no differences in their behavior or story. In this way, Ubisoft avoided the problem that appeared in AC Odyssey.
Following the trend, Valhalla is a huge game with an abundance of quests. It also balanced the gameplay and diversified the quests. It's an amazing Viking experience, praised for a perfect combination of action and RPG.
There's, however, some criticism of the variety that newer AC games introduce. While we all love big games with open worlds, it is true that the classic spirit of AC games got lost somewhere. The core mechanics of the game: iconic stealth and quiet assassinations, no longer feel like fun when we have dozens of other, brutal ways of taking down our targets.
Assassin's Creed 2
AC2 is an absolute classic. It gave us perhaps one of the most beloved protagonists in the series: Ezio Auditore. His popularity resulted in two sequels: Assassin's Creed Brotherhood and Assassin's Creed Revelations. There are, however, many reasons why the game deserves to be called the best Assassin's Creed game. First of all, it fixed the mistakes from AC1 and diversified the missions and challenges. The world of AC2 was also bigger in comparison to its predecessor. Beautifully crafted zones and interesting historical figures introduced along the way made AC2 a gripping adventure that is still playable today.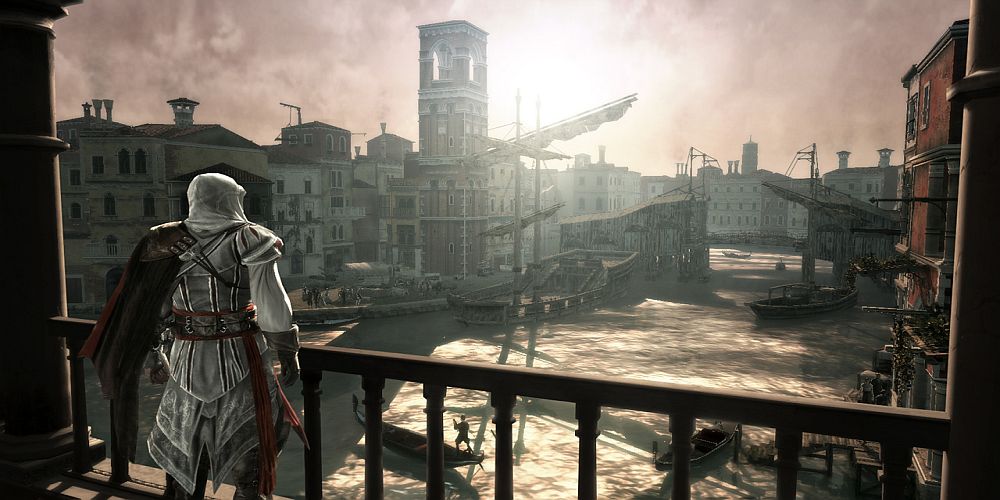 Moreover, AC2's narrative is considered to be one of the best in the history of gaming. The story of the carefree Ezio and his journey through his life is an emotional rollercoaster that truly embodies the spirit of Assassin's Creed. We still love to watch the official Assassin's Creed 2 trailer to remind the unforgettable atmosphere this game has.
Games with soundtracks you won't forget
Assassin's Creed I
This list wouldn't be complete without the very first installment of the series. Released in 2007 on PlayStation 3 and Xbox 360, quickly became a success. The first assassin we know, Altair, became an icon recognizable by many gamers all over the world. Initially, the game was meant to be a continuation of Prince of Persia. Eventually, the project grew to be something completely different, thus starting the iconic Assassin's Creed series.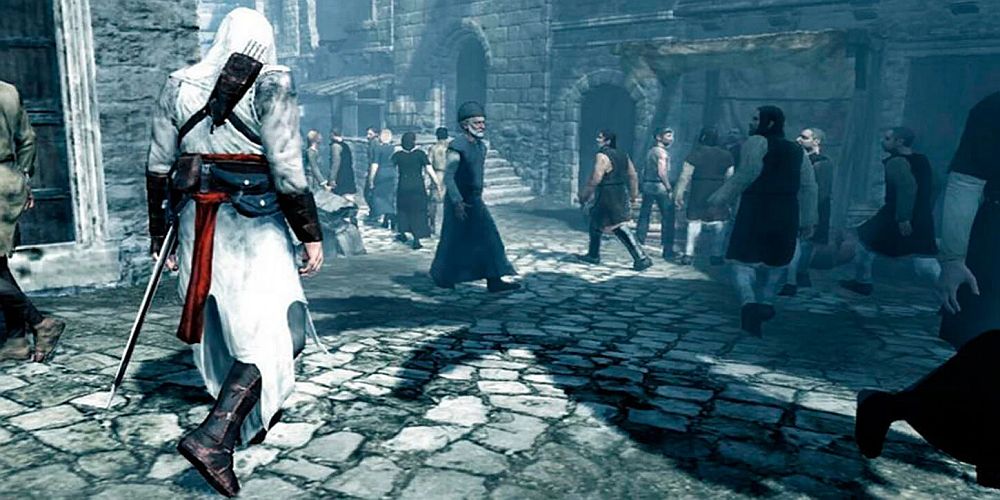 That's it, folks! What is your favorite AC game? Or, perhaps, you've never given any of them a go? Check out Assassin's Creed games on GAMIVO and begin your adventure with this iconic franchise. You won't regret it!