Spooky season is upon us! It's the perfect time to (re) play some of the best horror games. Are you looking for some inspiration? Read about our selection of the terrifying titles we've played and enjoyed. Perhaps you'll find your next title to play here!
Resident Evil Village
Resident Evil Village is the latest entry in the long-running Resident Evil franchise, and it does not disappoint. The game features pulse-pounding action, heart-stopping scares, and stunning graphics that will keep you coming back for more. This survival horror game developed by Capcom puts more emphasis on combat, but it doesn't mean the story isn't worth your attention. Characters like Alcina Dimitrescu and her daughters quickly became fan favorites. Resident evil village reviews were mostly positive, as players praised the setting, characters, and gameplay mechanics. Set in an old, Eastern European village, RE 8 is also a visually stunning experience with a unique atmosphere.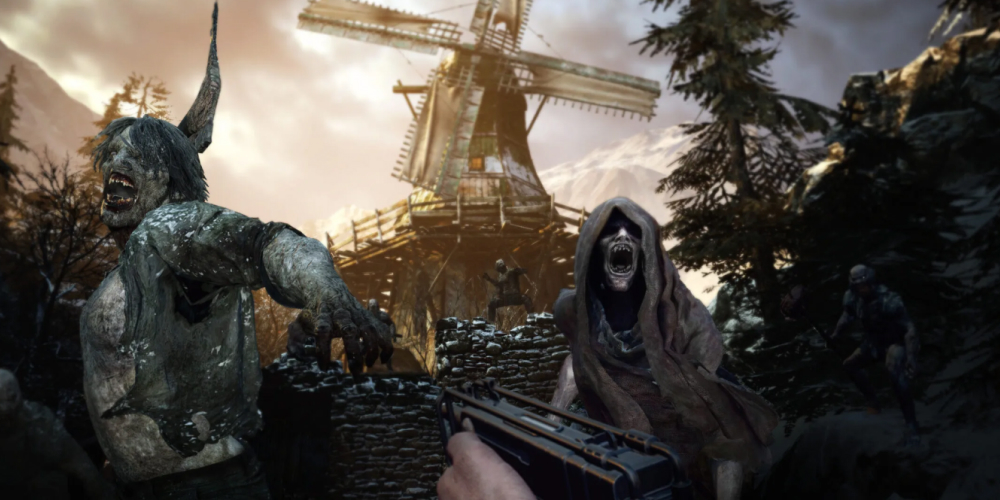 If you're looking for a horror game that will keep you up at night, Resident Evil Village is the one for you! If you have already played the game, you might be interested in an upcoming DLC Winters' Expansion that introduces 3rd person mode and expands the story of Rose Winters.
Resident Evil Village release date: May 7, 2021
Dead Space
Set in the 26th century, Dead Space follows the story of engineer Isaac Clarke as he tries to stop an alien invasion aboard a mining ship. The game is full of suspense and horror and will keep you entertained (and spooked) for hours. With innovative mechanics and intense gameplay, Dead Space is considered to be one of the best horror games ever made.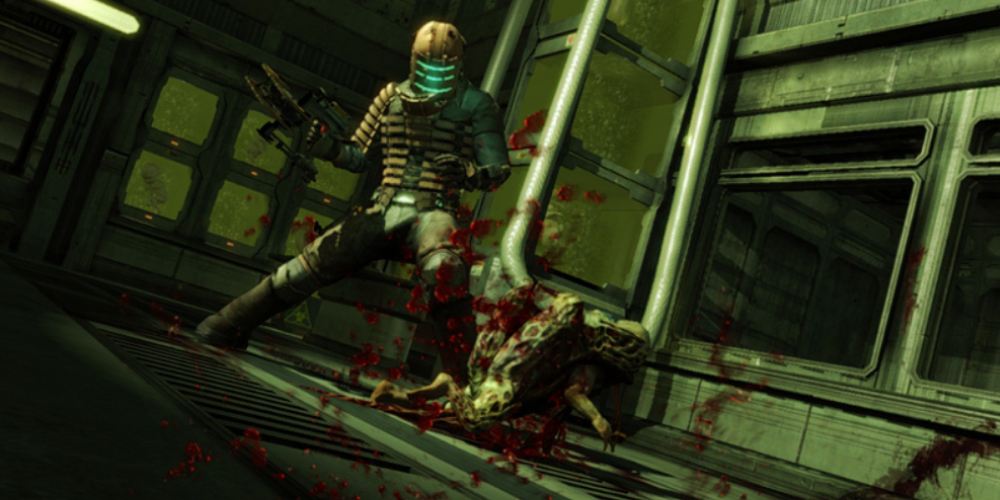 The good news is that the Dead Space Remake will soon hit the shelves. The game will not only feature upgraded graphics but also a few gameplay improvements. The remake will premiere on 27.01-2023, on PC, PlayStation 5, and Xbox Series X|S consoles.
Dead Space release date: October 14, 2008
Alien: Isolation
Alien Isolation is a horror game that was released in 2014. The player controls Amanda Ripley, the daughter of Ellen Ripley, as she explores a space station in an attempt to find out what happened to her mother. The game is set in the year 2137, fifteen years after the events of the film Alien.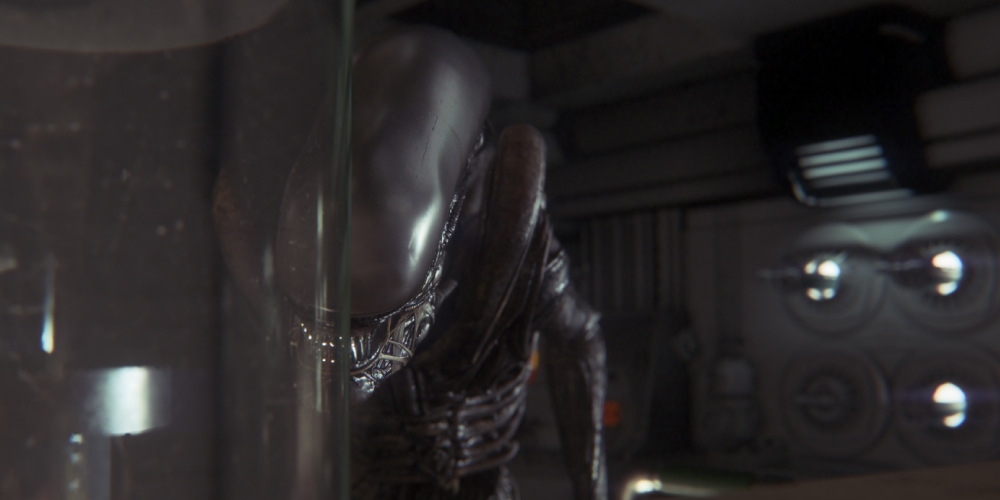 The player must use stealth to avoid detection by the aliens that are present on the station. The aliens will kill the player if they are spotted. The player can use various objects and devices to create distractions or hide from the aliens. The game also features a map system that allows the player to track their progress and plan their route through the station.
If you need an even better scare, check out Alien isolation VR! Alien Isolation was well received by critics and was praised for its atmosphere, graphics, and sound design. Because of the game's popularity, many expected that Alien Isolation 2 will be made at some point in the future. For now, there is no news on this topic.
Alien: Isolation release date: October 6, 2014
Bloodborne
Bloodborne is another horror game that is worth your time. This action RPG from developer FromSoftware features incredibly challenging gameplay that will push you to your limits. The game is set in a dark and twisted world, and you'll need all your wits about you to survive. If you're looking for a horror game that will test your mettle, this title is the one for you! Bloodborne bosses are in no way easy to defeat, but that makes each victory even more satisfying and rewarding.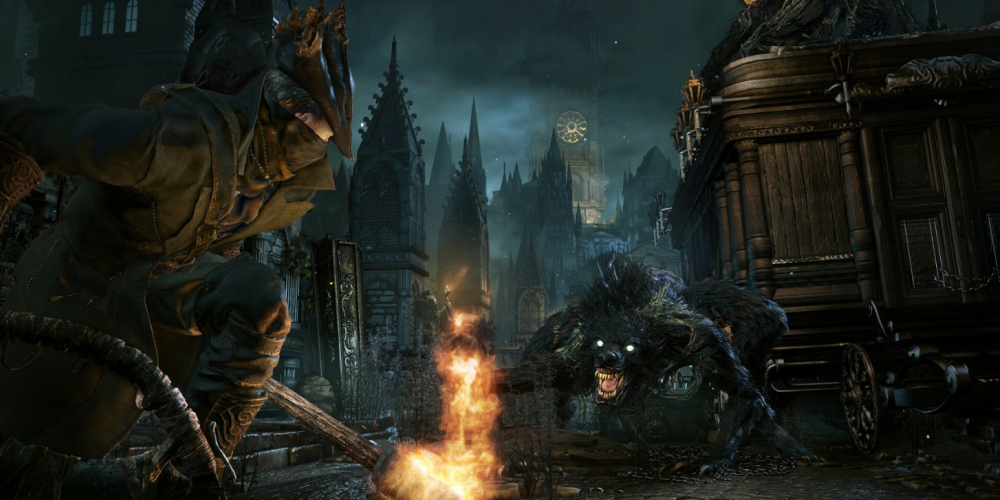 Keep in mind that it's a soulslike game, so the game's mechanics are quite different from other typical RPG games. If you want to get a glimpse of the game, make sure to watch some Bloodborne walkthrough videos. They will help you take down even the most powerful creatures from the game! Nevertheless, it's an exceptionally written game with an outstanding Victorian-esque atmosphere and original character designs. Unfortunately, You can play this title on PlayStation 4 and PlayStation 5 only. There is no news on the Bloodborne PC version that is highly anticipated by fans.
Bloodborne release date: March 24, 2015
The Last of Us
The Last of Us is a horror game that was released in 2013 for PlayStation 3. The game is set in a post-apocalyptic world where a virus has turned most of the population into zombies. The player controls a character named Joel, who must escort a young girl named Ellie through the zombie-infested world to safety. The Last of Us is considered one of the best horror games ever made, due to its intense and suspenseful gameplay, as well as its emotionally powerful story.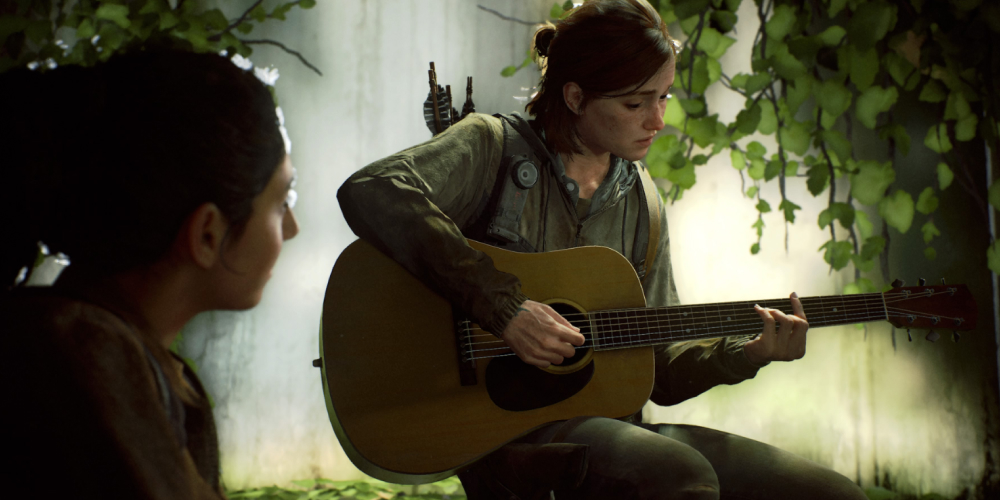 The game received a sequel The Last of Us 2 in 2020 and once again gained hundreds of positive reviews. Moreover, quite soon we will be able to watch the Last of Us TV series that will premiere in 2023. By the way, if you want to experience the story once again, check out The Last of Us Remastered for PlayStation 4.
The Last of Us release date: June 14, 2013
Five Nights at Freddy's
Animatronics can be spooky, and Five Nights at Freddy's is proof of this claim. The game produced in 2014 turned into a huge franchise with many installments. Five Nights at Freddy's is a survival horror game in which the player has to hide and defend themselves from terrifying animatronics. The game embodies many elements typical for old-school horrors, including lots of jump scares.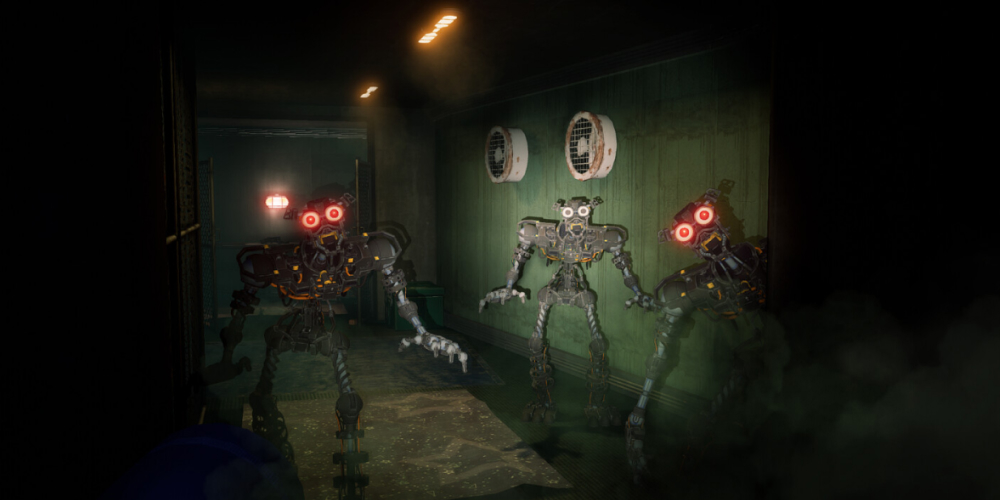 Five nights at Freddy's characters became popular among the young audience, despite their truly spooky looks. The latest installment of the series: Five Nights at Freddy's Security Breach gained hundreds of positive reviews. With free-roam gameplay and a new setting, the game experiences its second youth! If you enjoy jump scares and horrifying robots, FNAF is a game for you.
Five Nights at Freddy's release date: August 8, 2014
Resident Evil 7: Biohazard
Resident Evil 7: Biohazard is a horror game developed and published by Capcom, and released for PlayStation 4 in 2017. The player controls Ethan Winters as he searches for his wife Mia, who has been missing for three years. He eventually discovers that she is being held captive by the Baker family in their rural farmhouse. The family consists of Jack, Marguerite, Lucas, and Zoe Baker, who all have supernatural abilities.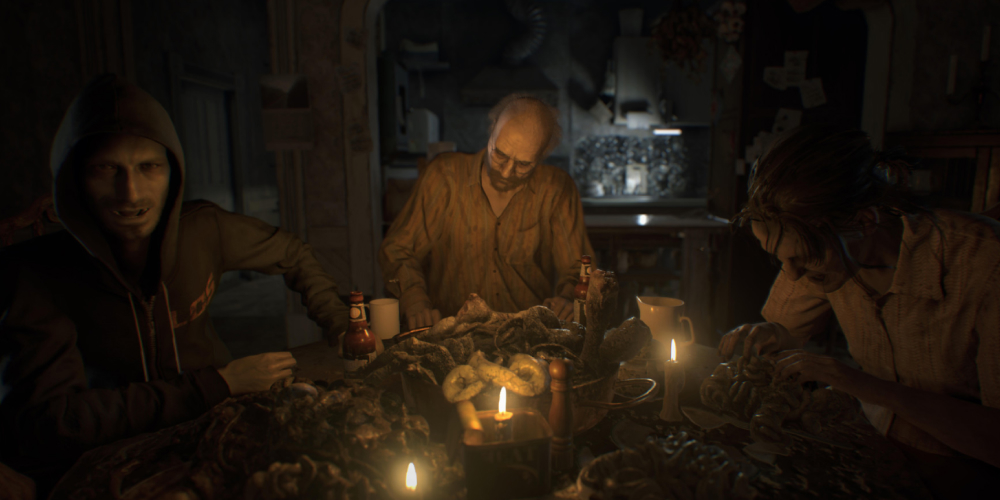 Ethan uses firearms and melee weapons to defend himself from the family and other creatures known as the Molded. The game uses a first-person perspective, with a shift to a third-person perspective when using certain weapons or while riding vehicles. It also features virtual reality support on the PlayStation 4. RE7 is considered to be one of the scariest Resident Evil games. Feel warned!
Resident Evil – a franchise full of terror
Resident Evil 7: Biohazard release date: January 24, 2017
Scorn
Scorn is a brand-new survival horror game that quickly amassed a large following. It definitely does stand out with the unusual setting and symbolism. The art style, inspired by the works of H. R. Giger and Zdzisław Beksiński creates an outstanding biopunk atmosphere. Combined with a mysterious storyline, Scorn is an excellent title for fans of horrors. It won't be your typical horror game though.
Hey! Have you been looking for this code? SOBD6Z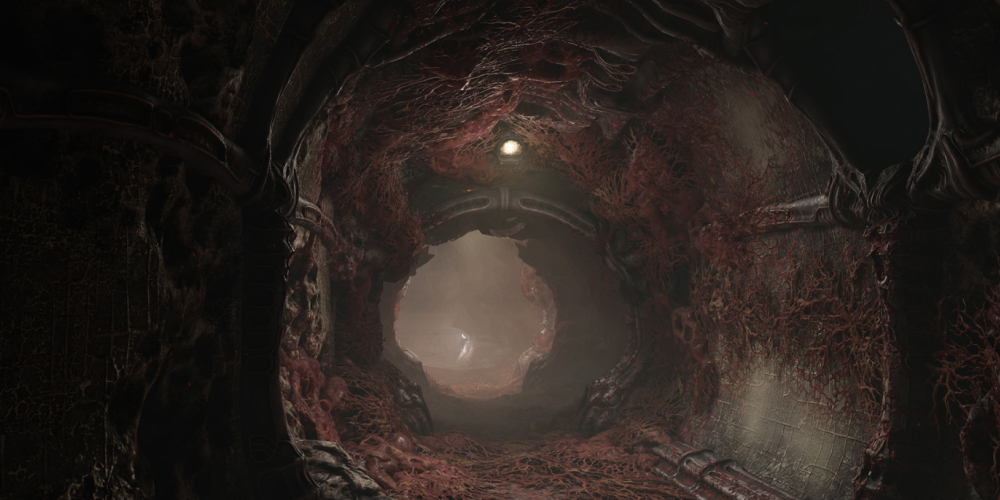 The game revolves around solving puzzles and discovering this twisted word through riddles. There are no dialogues either! Because of these unusual choices, Scorn might be a difficult horror game to get into, but discovering the bits and pieces of the story is a rewarding experience. So what is scorn game about? We don't want to spoil the fun, but if you want to learn more about this title check out our Scorn blog post.
Scorn release date: October 14, 2022
Layers of Fear
Horror games are a dime a dozen these days. But, every now and then, one comes along that is truly special. Layers of Fear from Bloober Team is one of those games. From the moment you boot up the game, it's clear that the game is something different. The game has an eerie atmosphere that is unmatched by most other horror games. The sound design is excellent, and the visuals are absolutely beautiful.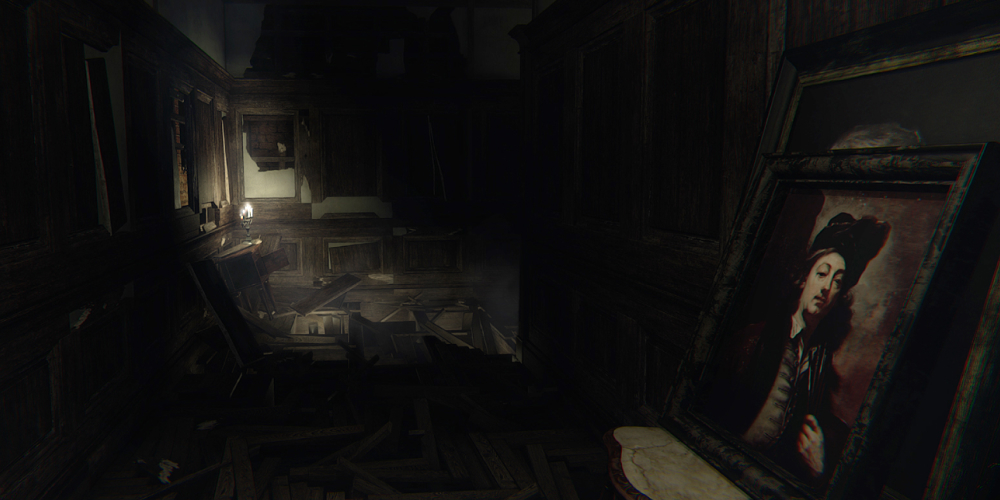 The story in Layers of Fear is also top-notch. It's a slow burn, but it's so well done that it's worth sticking with till the end. The game received its sequel in 2019: Layers of Fear 2. The sequel follows psychological horror features and once again brings a large dose of spookiness and beautiful pieces of art. It definitely is one of the most original horror games we've played!
Layers of Fear release date: February 16, 2016