VPNs are becoming an increasingly popular way to keep your online activity private. Surfshark is a VPN service that has been gaining a lot of attention lately. Let's take a look at what makes it such a great option, and why you should consider using it.
The product
With 3200+ servers across the globe, you can be more than sure that this VPN does its job. For instance, you can use services like Netflix to watch movies or series unavailable in your country. What's important, is that Surfshark doesn't store or track your activity online, and in case your VPN connection drops, the service features a kill switch to protect your data. Moreover, thanks to an IP rotator, your IP will be changed without disconnecting from the service. Moreover, you can install Surfshark on as many devices as you want, including iOS, Android, Windows, and Linux systems.
CleanWeb is another useful feature of Surfshark worth describing. If you don't want to see annoying ads, CleanWeb will block them for you. You also won't see annoying cookie consent pop-up windows thanks to an extension for Firefox, Chrome, and Edge browsers.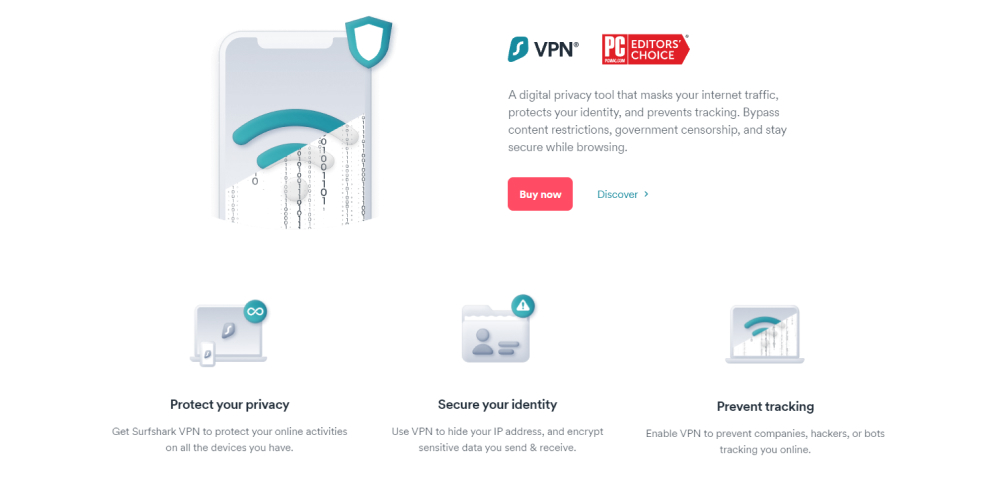 Even more importantly, it will also protect your device from malicious links and trackers. Thus, browsing the Internet on your device via public Wi-Fi hotspots can be much safer. It's a particularly useful option when you often use public hotspots in places like restaurants or train stations: whether for work or entertainment. It's also great for those who travel a lot and use hotspots instead of cellular data.
You'll also have the possibility to whitelist websites of your choice: these will use your regular IP address. It's also worth mentioning that the app itself boasts a user-friendly interface and the customer service offers high-quality support.
Surfshark's additional services
Surfshark is not, however, only a VPN. Additionally, you can expand the service by purchasing three additional features:
Alert: real-time alerts on breaches of your personal data,
Antivirus: an efficient program that protects all of your devices,
Surfshark search: innovative browser that not only lets you stay private but also guarantees organic search results, not influenced by your online searches.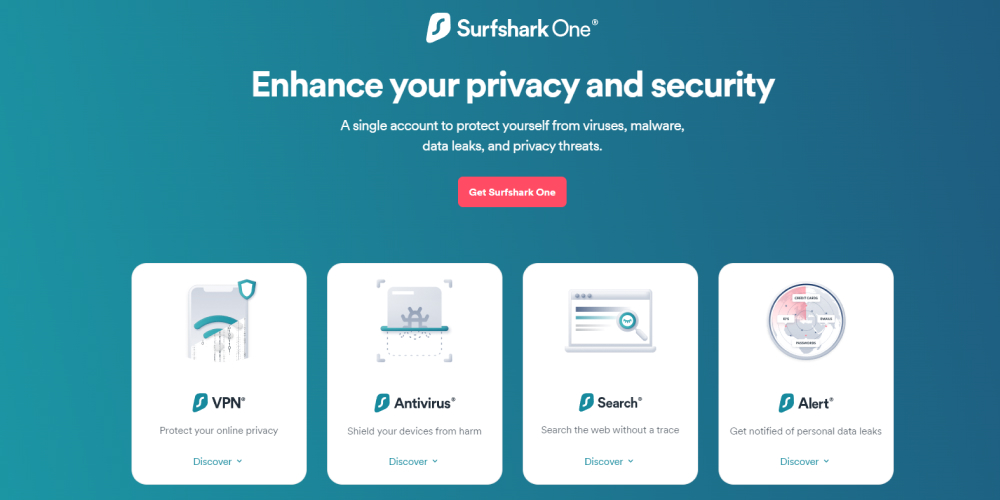 These three features can be acquired in a Surfshark One bundle. The bundle doesn't cost a fortune: for only €1.49, we get full protection and privacy. It's worth considering if you are treating internet privacy and protection seriously.
Pricing and payment methods
Depending on your needs, you may pick 24-, 12-, or 1-month subscriptions:
24-month: €2.05/ mo.,
12-month: €3.99/ mo.,
1-month: €12.95/ mo.
Considering the number of features and the overall quality of Surfshark, its price is more than justified. You may buy Surfshark with many different payment methods, including cryptocurrency, PayPal, and many more. There's a free 30-day money-back guarantee in case you are not satisfied with the service.
Final verdict
Therefore, if you are looking for a reliable VPN, Surfshark is the service for you! We particularly enjoyed the number of features the program has to offer. While Surfshark's price isn't the lowest on the market, compared to other services of that type, Surfshark offers more features (such as ad-blocking or two-factor authentication). Of course, there are cheaper alternatives, but all of the additional options make this product worthy of its price. Taking into account all the aforementioned features, we believe that Surfshark is one of the best VPNs out there.
Interested in buying Surfshark? Get it here and enjoy its features right away!