One of the most anticipated games of 2022 has finally arrived! Horizon Forbidden West is getting an overwhelmingly positive response from the audience. Let's venture into the world of Aloy in our short review.
Remember GAMIVO's latest article on Horizon? We've been quite excited about the sequel: will Guerrilla Games make an already great franchise better? The expectations were high: looking at video showcases, developers' notes, and bits of gameplay, the game looks truly mesmerizing. Nevertheless, Zero Dawn had a few issues that had to be tackled. Let's forget about the first installment for now and see what Forbidden West has to offer!
A captivating story
If you've played the previous installment, you know that it boasted one of the most unique narratives around. The Horizon Forbidden West story takes place sometime after the events of Zero Dawn. The attempt to defeat the sinister AI failed, and the plague keeps spreading to the titular West. Aloy has to venture to these lands, find friends among the hostile tribes and discover the truth hiding behind the evil AI.
The story is well-written and, most importantly, multilayered. Side quests are richer in lore as well – lack of meaningful side missions was one of the weaker aspects of Zero Dawn. What's more, there's no need to be knowledgeable about the world of Horizon, so you don't have to play Zero Dawn to understand the sequel.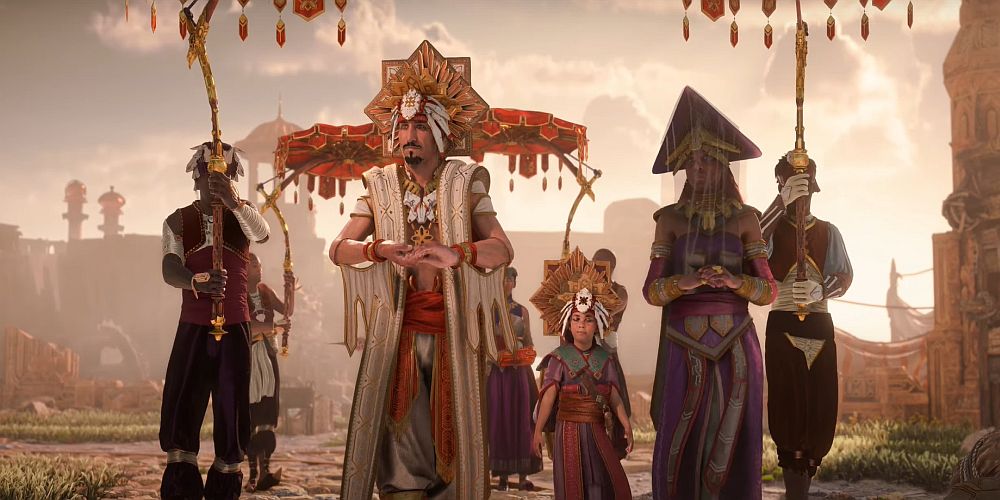 Cutscenes and cinematic sequences are incredibly pleasant to watch. Dynamic camerawork and beautifully rendered models make us forget that we are playing a game. We are quite certain that Horizon Forbidden West has one of the best and most realistic-looking human models we've ever seen.
A truly immersive experience
It wouldn't be an exaggeration to say that Horizon Forbidden West truly deserves to be called a next-gen masterpiece. Running through post-apocalyptic America feels simply great. The world created by Guerrilla Games is one of the most detailed and stunning creations we've seen: it feels alive, responsive, and mesmerizing. Underwater areas feel fantastic as well. Diving into crystal-clear waters with its colorful fauna and flora (and robots as well) is an exciting experience we've instantly fallen in love with.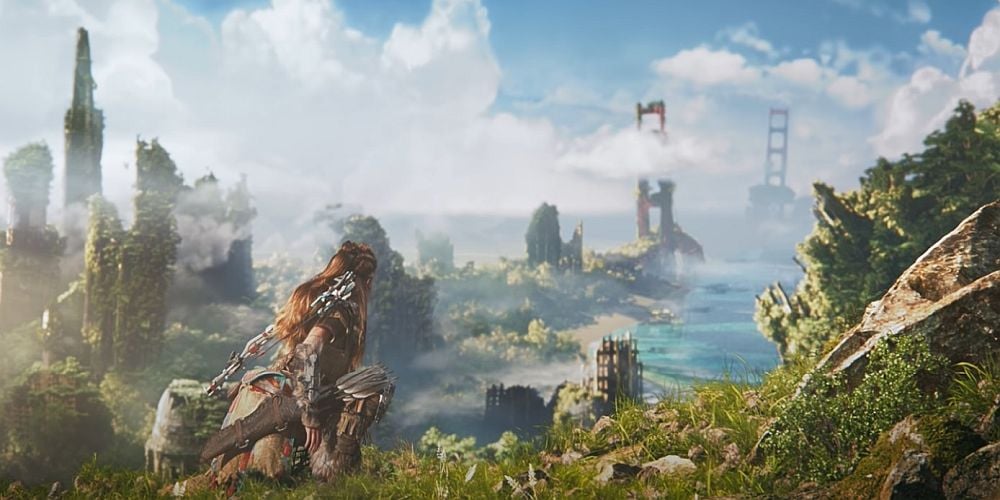 This realism can be found everywhere, and we believe it is what makes the game stand out. We got a visually polished masterpiece, where every detail matters. It's simply a feast for the eyes, which we can admire for hours! The attention put into polishing even the smallest elements of the environment is award-worthy.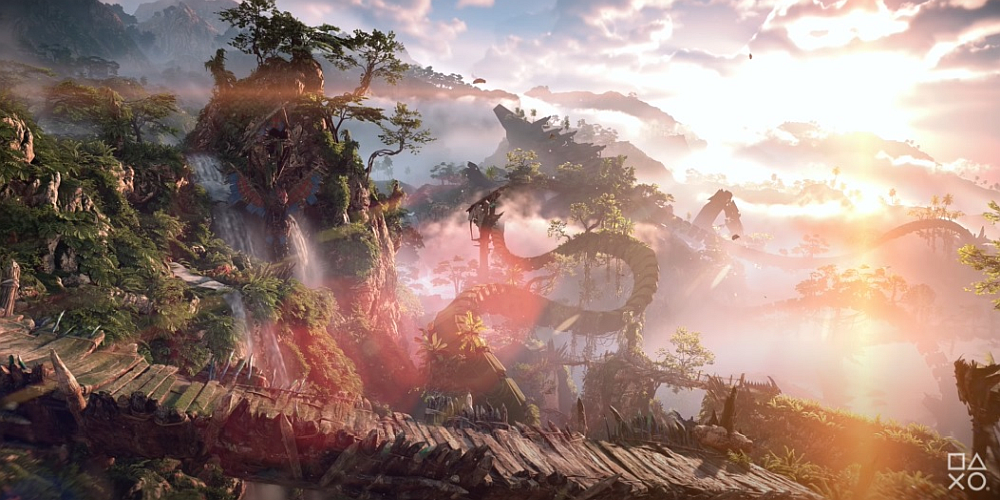 Exploring this vast area is a pure pleasure. Sometimes you just have to stop, put your weapon away, and admire the views around you. The map is huge, but that shouldn't discourage you from traversing this world on foot. Every bit of the map hides a quest, a treasure to find, or a robot to hunt. There's an option to fast travel between the most important points, but we recommend exploring this incredible world bit by bit!
Horizon Forbidden West gameplay
Combat and traversing the world is as exciting as we'd expected it to be. Last time, we discussed how the developers wanted to make the world of Horizon even more open. Their promises weren't in vain: we've received a game that is explorable in every possible way. There are no loading screens, you can climb, glide, swim, and explore every fragment of the map.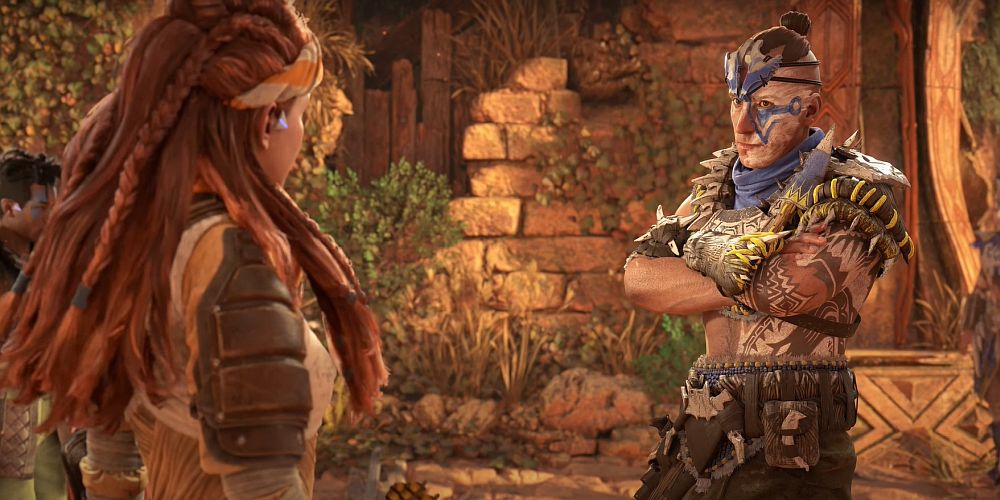 Those new traversing mechanics certainly make a cool addition to the game, but there are a few issues. Sometimes they feel clumsy and not intuitive to use, but it's a very minor problem that doesn't ruin the experience at all.
A seasoned warrior
As Aloy matured, so had her skills. Horizon Forbidden West combat has been majorly upgraded. With a plethora of new monsters to kill, using Aloy's abilities feels exciting: some encounters can be, however, pretty challenging. Even after leveling and equipping better gear, no fight is boring and always requires a dose of focus.
There are a lot of mechanics we already know from Zero Dawn; for instance, before taking down a machine, you have to destroy its shields and aim for the weakest spots. Horizon Forbidden West combat is fun, but some encounters might be slightly overwhelming with multiple enemies attacking you simultaneously.
Crafting
We also have access to a rich arsenal of weapons that you can customize and upgrade. It's quite an overwhelming aspect of the game, but after familiarizing yourself with possible options, you may craft a weapon that perfectly fits your preferences.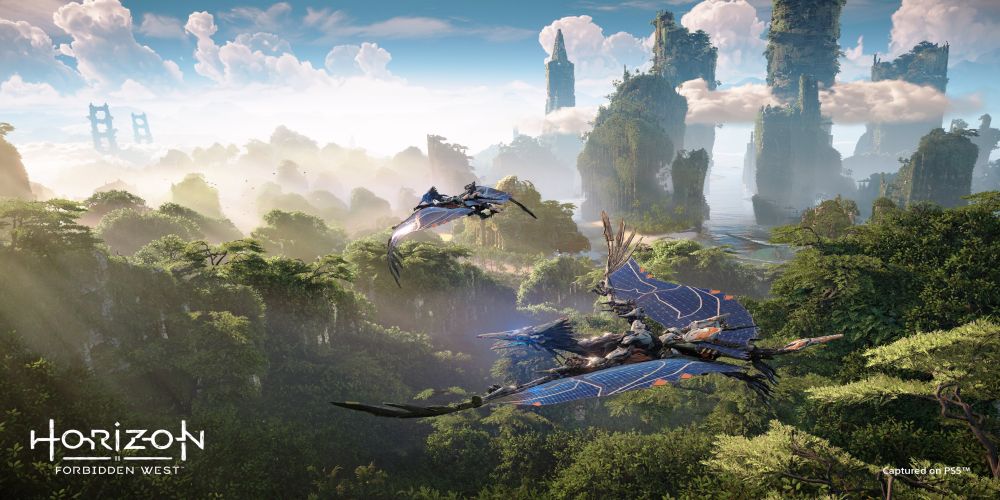 Speaking of customization, you may upgrade Aloy's skills with a skill tree. You can be more than sure that you'll find perks for you, regardless of what your favorite playstyle is: melee, ranged, or both: everything is there!
Horizon Forbidden West PS4
Even though Horizon Forbidden West has been largely advertised as a PS5 title, don't worry if you don't own the console. It's quite admirable that Guerrilla Games managed to create a perfectly playable game on PlayStation 4 as well. Therefore, you don't have to wait for the PS5 restock! There will be, of course, some visual differences concerning shading and details, but both the base PS4 and PS4 Pro will be enough to get the full Horizon Forbidden West experience.
The final verdict
Horizon Forbidden West is a title we've loved since the very first seconds of gameplay. Perhaps it's not a revolutionary title, but Guerrilla Games has created a fully polished game that will keep you engaged both lore- and gameplay-wise. As for now, make sure to watch the Horizon Forbidden West trailer that showcases the spectacular world of Aloy!