Astra Exodus provides an outstanding plot revolving around aliens, scavengers, and pirates: the dark gloomy space is full of worry and trouble. The human race has been wandering across the galaxies for a long time now, so it is time that we should go home, to our worthy earth.
Take expertise of all humans' resources: make new ships to move, study new techs, colonize and explore everything that passes your way from small planets to big galaxies. Be always prepared to fight and find answers to the mysteries of the giant space. It is an unsafe space where hostile aliens and pirates lurk in the dusky space waiting for your next one wrong turn and hit you mercilessly.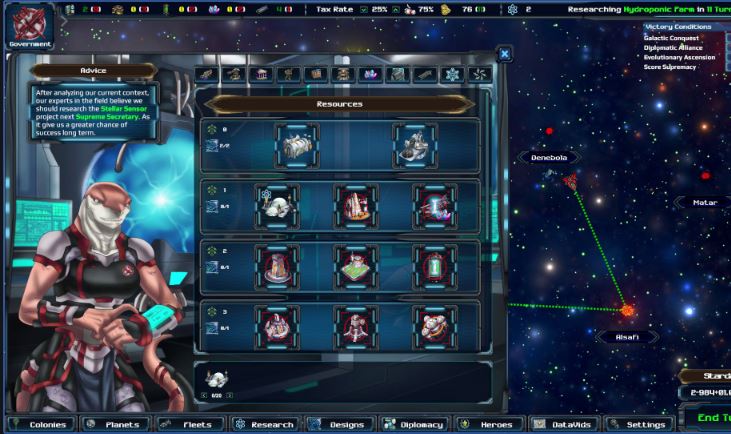 The classic but polished 4X experience
In Astra Exodus, you will get very few resources to survive at the beginning like a map to help you explore the mysterious surroundings and some ships to take care of. It depends on the race you choose from among eight categories, whether it be a tree-like race that benefits from underground living and doesn't generate pollution, or perhaps the Ilumina Starnation, a group of shark-like aliens that are very diligent and industrious in aquatic worlds. Your next move will be up to you and your focus on the type of race. It's just classic 4X that more refined and has a different aesthetic and color.
The single-player storyline battle will set you to move up and down the four turning points of the galaxy accompanied by a series of missions following the cryptic legacy of the Exodus. For endless 4x action you have the option to choose the free sandbox mode and act like a full-alien leading one fraction out of the seven divisions, from the red-skinned reptiles of the Veloran Horde to winged Okla, all of them with unique abilities and traits.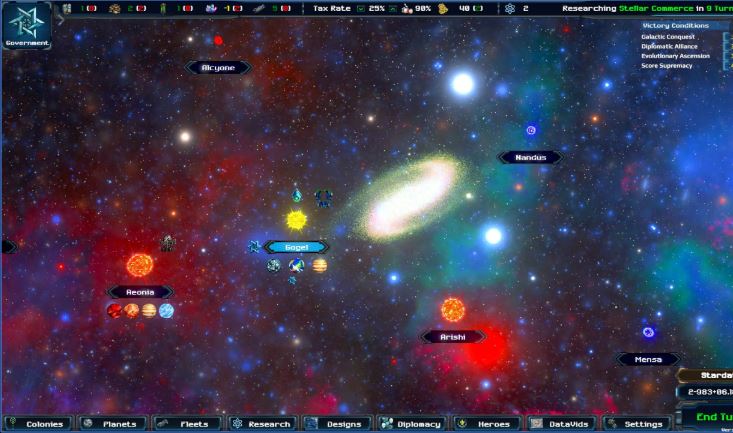 Traditional Colony Management
If you have played MOO2, you will find a similar kind of colony management formula being used. On each level, you can pick only one technology that you'll move ahead with. The only way of getting other techs is by trading for them with other races, which will boost diplomatic favor.
Personalization Features:
You are also able to personalize your ship with quite a few personalization options. The user-friendly interface makes it so easy to load the ship with new components before sending it off to a new duty. Fleet combat can be played on a pretty grand scale as large fleets are attainable rather swiftly once you get your industry going. It is real-time combat, you can adjust its speed and it can be paused too.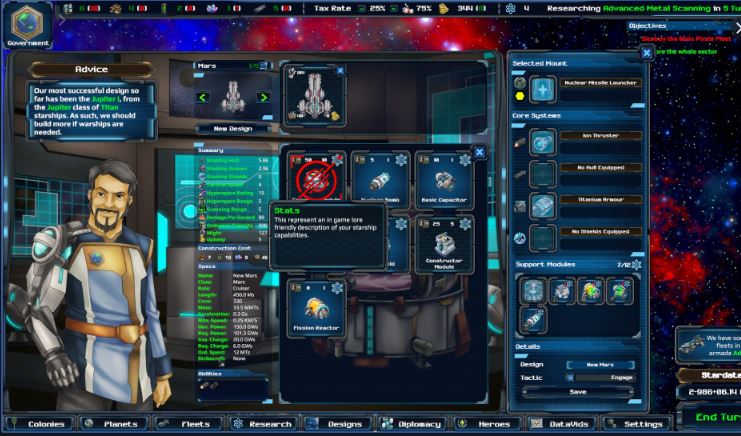 You will see a fully-fleshed-out campaign helping you familiarize yourself with the gameplay and also tell the story of galactic space drama helping you get yourself acquainted with the universe; you are a part of, in the game. You can imagine that a lot of effort has gone into making this campaign unforgettable and you will love to dive into its mysterious environment.